A perfect escape from the hustle and bustle of everyday life
Tree houses
The distinctive design of the luxurious tree house provides a perfect opportunity to re-connect with nature and beautiful surroundingsby providing you with an elegant interior designed for comfort and relaxation. Located high in the pine trees, these houses are a perfect escape from the hustle and bustle of everyday life. The trees guarantee privacy and offer a pleasant shade during hot weather. The tree houses are available throughout the year.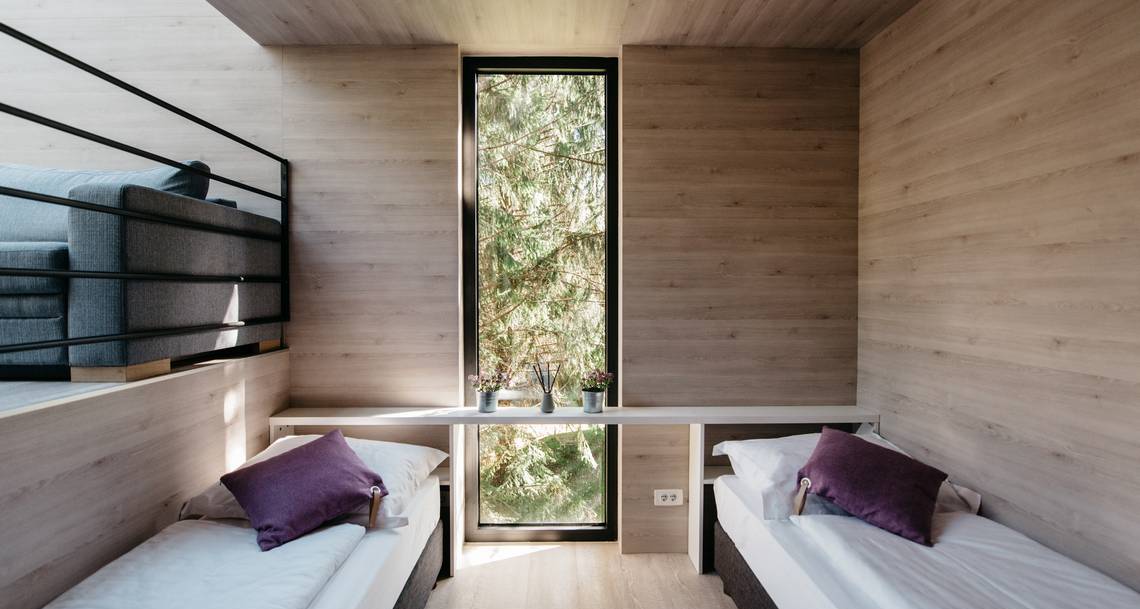 Lake houses
Comfortable interior, elegant décor and charming ambiance for a unique but sophisticated escape from the bustle of everyday life and re-connection with nature. Houses are located by the lake by the soothing sound of waterfalls. Most homes have direct access to the lake, which includes a small beach as well, so that during hot summer days guests can cool down in the shade of magnificent trees and connect with nature on their doorstep! The lake houses are available throughout the year.
Mini golf
Fun and recreation for the entire family. It is located in a unique environment, formed to resemble the Wild West, which makes it an unforgettable experience and fun for the entire family.
Lakes with the stream and waterfalls
Two artificial lakes with biological purifier guarantee clean water without the use of chemicals and the possibility of swimming during hot summer days, while the stream and waterfalls create a soothing ambience for relaxed vacation.
Pavilion rooms
Double bed rooms are fully equipped with bathrooms and heating for colder days. All rooms have SAT TV, free WiFi, air conditioning, mini bar and safe. Breakfast, lunch and dinner are served in the restaurant. Rooms are available throughout the year.
Bungalows
In three wooden bungalows there are in total six triple rooms. They are equipped with SAT TV and AC/ heating in rooms and floor heating in bathrooms. Breakfast, lunch and dinner are served in the restaurant. It is possible to book B&B, HB or FB.
Free WiFi is provided to all guests. Bungalows are available throughout the year.
Apartments
The apartment represents top luxury and comfort: air-conditioning, LCD TV, floor heating in the bathroom, dish washer, oven and top-quality furniture and design are just some of the features of this luxurious facility. Free WiFi is provided to all guests. The apartment is always charged the same price, regardless of the number of persons it accommodates (max. 5 persons).
Mobile homes
If you wish to experience the magic of spending time in nature but still enjoy the comfort and peace, we offer you accommodation in newly built and exquisitely equipped mobile homes. Each mobile home has its own terrace on which you can enjoy the sun and then seek refreshment in our newly built swimming pool.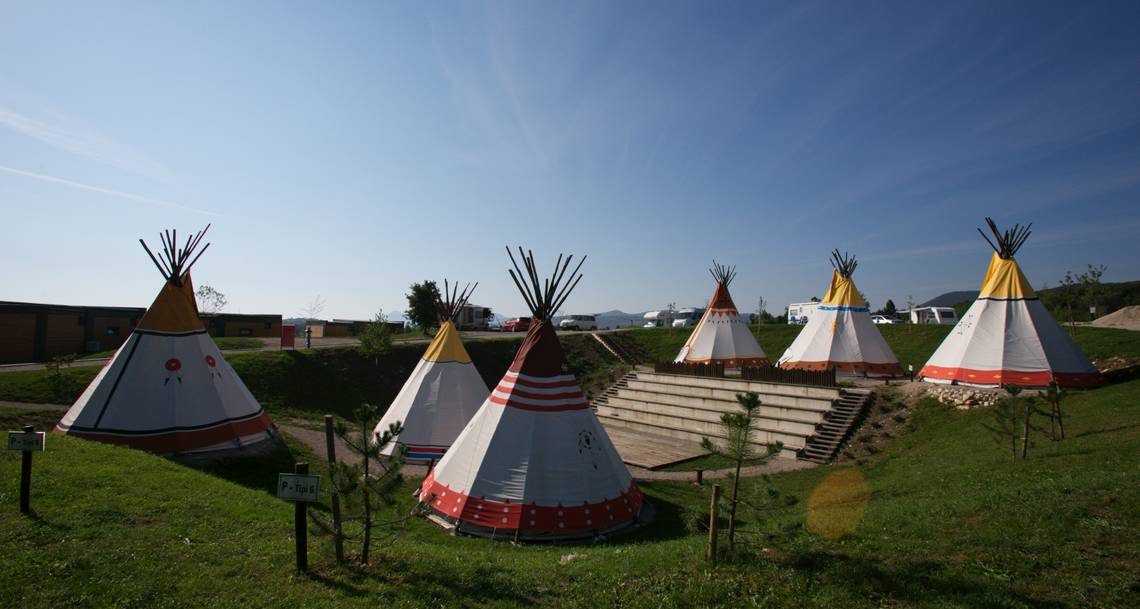 Tipi tents
For those wishing to spend a slightly different holiday, find peace and harmony in nature, we offer something completely new – an Indian village. The village is composed of a total of 6 tipis made based on the real Indian tribes' tent models and is ideal for an adventure holiday regardless of whether you are coming with your family, partner, friends, work colleagues…The tents we offer can be an excellent idea for an innovative school day trip, motivational and relaxing teambuilding, relaxed family reunion or a cheerful get-together with your friends. A children's playground, a volleyball court on the sand and a brand-new swimming pool are all located nearby. Immerse yourselves in nature and spend some unforgettable moments in our Indian village.